Brief introduction
Jehnichen Consulting Ltd. is a professional internationally orientated business consulting company. Since 2006 we established a network of experienced business experts and of which we are an integral part with our own strengths and experience. Consequently we assure a comprehensive spectrum of services, all from one hand, even if certain services, for instance law consulting, are generated by external specialists.
Owner of Xi'an Jehnichen Consulting Ltd.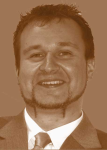 Marco Jehnichen
(CEO / Senior Consultant)
Representative all persons, being involved into our projects we take the chance to introduce the owner, representing our company to the public.

Marco Jehnichen (born in 1974) studied "Business Management" at the Technical University Dresden, after he successfully finished his apprenticeship as an "assistant in tax- and business-consulting". After working for 2 years he graduated in an additional study as a "Chinamanager" in cooperation between the FHM Bielefeld and the Nordwest University Xi'an / China. He lives in Xi'an since the beginning of 2006.
Marco Jehnichen got business experience as a wholesaler in parallel to pursuing his management study and after that worked as a freelancer for a business consulting company in Dresden. He improved his communicative and organisational skills during his work in the guest relation sector. Marco Jehnichen's educational background focused on taxation law and business informatics. He is also experienced in tourism and the food trading industry.
From time to time Mr. Jehnichen performs lectures at universities, such as Xidian University Xi'an, Changan University Xi'an and the University of Post and Telecommunication Xi'an.
Our Company principles
Ideas, creativity and new thought-provoking impulses as well as consequent professional implementation characterise our work.
Trust is the basis for our business success. That's why we emphasize long-term and long-lasting relations with our clients and partners.
The goal-orientated teamwork of our employees is mandatory for the success of our company.
We are aware of the relationship between qualification, motivation and business success. Hence we support our employees in offering continuous training and further education.